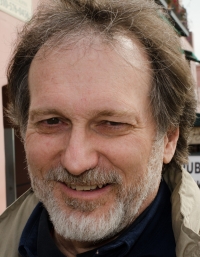 Coming Spring 2022
For updates as the book approaches its publication date or for when I post more content here, please use the form below:      
Monkey Business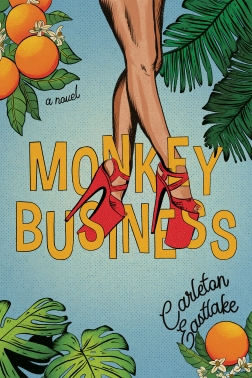 By Carleton Eastlake
Published by Red Hen Press
ORDER A SIGNED COPY AT: Diesel Bookstore - Brentwood
Skylight Books - Los Angeles Chevalier's Books - Los Angeles
Book Soup - West Hollywood Vroman's Bookstore - Pasadena
Octavia Books - New Orleans
When William Fox, a TV writer on location in Florida, is dragged by his show's toxic producers to a "gentleman's club" that's just appeared outside town, he meets Nicole, a mysterious dancer who claims to be an anthropologist searching for signs of rational life on Earth.
Enchanted by her both playful and serious ideas exploring love, limerence, power, monkey behavior, paintball combat, creativity, and the dilemma of a rational mind compelled to serve an animal's body by feeding it fantasies, Will falls in love – and his ever more troubled love-struck behavior and the acidly destructive battles among his producers and network executives during the production of his show soon begin to illustrate Nicole's theories.
Nicole is charmingly romantic on a cruise up the Space Coast, but nothing about her seems authentic. After she warns she'll soon leave, and his producers are humbled by an uncanny encounter with the police, Will begins to wonder, is Nicole staging real world events with him and the producers as her experimental subjects? And if so, can he discover her true identity, learn the lessons she's trying to teach, and earn her love before he loses her forever? Coming from Red Hen Press, May 3, 2022.

Advance praise for MONKEY BUSINESS...
Carl Hiaasen, make way for Carleton Eastlake. Monkey Business is a brash and bawdy hero's journey—and wicked fun from start to finish.
—JULIA GLASS, National Book Award–winning author of THREE JUNES
Carleton Eastlake has written a raw, jarring, darkly-funny primer and philosophical treatise on navigating the politics of television and lust that's dressed up as a noir novel about a man driven to near-madness by the Machiavellian mind-games of his bosses and soul-ravaging sex with a mysterious stripper.
—LEE GOLDBERG, New York Times bestselling author and TV producer
I don't know which I admire more: clever wordplay, amusing textual Easter eggs, a delightfully enigmatic leading woman, or an unabashedly candid self-aware narrator. All these elements combine to make Monkey Business a fascinating read. —CARL GOTTLIEB, author of THE JAWS LOG
One Midsummer Eve, a young, put-upon TV writer meets a fairy queen in the form of a sibylline exotic dancer obsessed with anthropology, the failure of Darwinism, and Chairman Mao. What unfolds is a captivating, clever, Freudian escapade through the vicissitudes of love, power games, paintball, and the irrationality of human behavior. —KAREN ESSEX, author of DRACULA IN LOVE: A NOVEL

Please click the icons and links at the top of the page to preorder from my local bookstores and from major sites in the United States, UK, Canada, and Australia.
---
---
Books From Red Hen Press...
Red Hen Press is celebrating is its 27
th
year of publishing works of literary excellence, supporting diversity, and promoting literacy.
Click here to take a look
.

---

Books By Loraine Despres...

While waiting for Monkey Business to appear, since I learned very nearly everything I know from her, you might want to take a look at my best-selling wife's books. Click here to take a look.